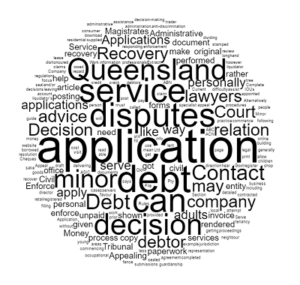 If you are a business that offers credit to customers, it is very important that you have an actual credit application process, and a legally enforceable contract in the event of default.
Default happen all of the time, sometimes through no fault of your customer, but whatever the reason you should be protected to the fullest extent of the law.
Why should you be prejudiced because of your customers mistakes?
A good credit application process, and a legally binding credit contract will ensure that you have taken all the precautions possible to protect your business, while still being able to extend a line of credit to your customers.
We offer those things and more.  Keep reading.
FIXED FEES – SECURE CONTRACTS – PROVEN RESULTS
OR CALL: 1300 545 133 FOR A PHONE CONSULTATION
Credit Contract Application Process
If you are engaging with a new client / customer, then there are a few things that you can do to mitigate the risk.  You can do the following:
Know who your customer is;

Do a credit check;

Ask for trade references; and

Perform other searches.
I will briefly discuss these in more detail below.
Know who your Customer is
It is very important that you know who your customer is.
If your customer is a person / sole trader, then conduct an ABN search to ensure that the details provided are correct, and that the ABN is still active.
If they have given you a business name, then do a business name search to uncover the legal entity operating the business, it could be a company for example.
If your customer is a company, then conduct an ASIC search and obtain a current extract and/or a historical extract.  This will show you who the directors are, who the company secretary is, who the shareholders are, and the addresses of the company and all of the officeholders.
Do a Credit Check
Once you have the correct entity, there are a number of reporting agencies out there who will provide a credit report for the entity identified.
A credit report will identify the any defaults of payment and any legal action to recover debts.
If the legal entity is a company, then you should do credit checks on the directors too.
Ask for Trade References
Asking for trade references is very common.
If you ask the customer for two (2) or three (3) trade references, this will give you a good indication of the customers history as a trade debtor.
Perform other Searches
We would also strongly advise that you perform other searches too.
Just a simple Google search will sometimes throw up good information.  Put "" on either side of the customer's name – "John Smith" + debt – for example will return better Google results.
If the customer is a company then you should get a current extract from ASIC.  This search with ASIC will give you some great information about the company.
Credit Application
If you have performed these searches and you think that the customer is a good candidate, then you can enter into a legally binding commercial credit contract with them.
Credit Contract
A credit contract is a contract which governs the terms of the agreement between you and your credit customer.
It is important that this contract is fair, but also protects your rights as a creditor.
There are a number of clauses that you should consider including in your credit contract, including:
Defining default and breach;

Security for the debt;

Personal guarantees;

Legal & debt collection costs upon default; and

Default interest.
I will briefly explain these in more detail below.
Defining Default and Breach of Contract
The credit contract should explain what the events of a default are and what the events of a breach are.  For example, a breach could be non-payment in accordance with the payment terms.  Whereas default could be seven (7) days after sending a notice to remedy the breach.
It is important to correctly define these things, amongst others.
Security for the Debt under Contract
You should consider asking for security for the debt.
This could be in the form of a charging clause for the customer and the guarantors.
This could also be in the form of a PPSA charge over personal property.
Personal Guarantees
If the customer is a company then you should definitely ask for personal or director's guarantees.
A company may become insolvent, but the directors of the company could be solvent.  It is important that the directors personally guarantee the payment obligations of the company.
This will ensure that if you are unable to recover the debt from the company, then you can recover from the directors personally.
Legal & Debt Collection Costs upon Default
Unless stated in a contract or awarded by the Court at the end of a trial, there is no legal obligation for a debtor to pay the legal costs of recovering the debt.
A carefully worded contract allowing for legal and debt collection costs to be added to the debt is a really good way to recover as much of your legal expenses as possible.
It also acts as a great incentive for the trade debtor to pay their bills if they are faced with the possibility of thousands of dollars in legal fees added to the debt.
Default Interest
A credit contract should also include a default interest rate on all outstanding monies.
A default interest rate allows you to charge an increased rate of interest on money owing under the trade credit contract.
This clause should be very carefully drafted so as not to be ruled as a penalty and severed from the contract altogether.
FIXED FEES – SECURE CONTRACTS – PROVEN RESULTS
CONTACT US FOR A FREE CONSULTATION
OR CALL: 1300 545 133 FOR A PHONE CONSULTATION